This is a hymn about faith. Sometimes recommended for
Lent
, it can be used throughout the liturgical year.
The words were written by English Anglican priest, theologian, poet and hymn-writer, Henry Alford (1810–1871) and first published in his book Psalms & Hymns (1844).
In common metre (CM / 8.6.8.6), tunes it has been set to include
MARTYRDOM by Hugh Wilson (1766-1824)
SHANTI, by American Lutheran composer and pastoral musician, Marty Haugen (b 1950)
ARLINGTON BY Thomas Augustine Arne (1762)
ST FLAVIAN, unknown 1562
ST ANNE by William Croft (1700s)
DUNLAP'S CREEK (McFarland) by Samuel McFarland (1814)
ST. BOTOLPH by Gordon Slater (1929)
Downloads
This section may contain affiliate links: I earn from qualifying purchases on these. Free downloads are provided where possible (eg for public domain items).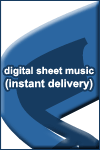 D
downloadable
sheetmusic for SATB Choir + accompaniment, Guitar

Tune: SHANTI

Tune: SHANTI
Examples
Singer with reed-organ:


Choir and congregation with organ, tune: SHANTI


Cantor and choir with piano-led band:


Lyrics
We walk by faith and not by sight:
No gracious words we hear
Of him who spoke as none e'er spoke,
But we believe him near.
We may not touch his hands and side,
Nor follow where he trod;
Yet in his promise we rejoice,
And cry, "My Lord and God!"
Help then, O Lord, our unbelief,
And may our faith abound;
To call on you when you are near,
And seek where you are found.
That when our life of faith is done
In realms of clearer light,
We may behold you as you are
In full and endless sight.
See more ...